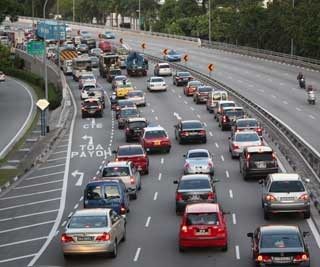 Certificate of entitlement (COE) premiums for vehicles went up in all categories in the latest bidding exercise on Wednesday.
The COE premium for Cat A (Cars below 1,600) risen from $64,839 to $67,301, which is S$2,462 higher.
While the COE premium for CAT B (Cars above 1,600 cc) risen from $67,304 to $75,000, a total of S$7,696 increase.
As for Cat C (Goods and services vehicles and buses), the premium risen from $56,889 to $57,989, a difference of S$1,100. For Cat D (Motorcycles), there was only a S$38 premium increase – from $1,663 to $1,701.
Finally, the Cat E (Open Category) went up from $66,701 to $76,000, a total of $S9,299 increase on COE premium.
COE Results (May – June 2013)
Month of Bidding Exercise

Vehicle Category

Bidding

Cat A Cars (<=1600 cc) & Taxis

Cat B Cars >1600 cc

Cat C Goods vehicles & buses

Cat D Motorcycles

Category E Open Cat

1st

2nd

1st

2nd

1st

2nd

1st

2nd

1st

2nd

May-2013
Quota
336
333
317
332
225
233
600
507
239
251
Successful bids
329
324
317
329
223
232
595
459
238
239
Bids received
912
888
601
749
312
288
719
642
447
466
Quota Premium
$62,999
$64,839
$61,700
$67,304
$57,051
$56,889
$1,700
$1,663
$62,301
$66,701
PQP for Jun 2013
$65,044
$65,001
$56,078
$1,795
N/A
Jun-2013
Quota
341
302
227
511
239
Successful bids
336
274
226
479
189
Bids received
855
732
292
616
534
Quota Premium
$67,301
$75,000
$57,989
$1,701
$76,000
PQP for Jul 2013