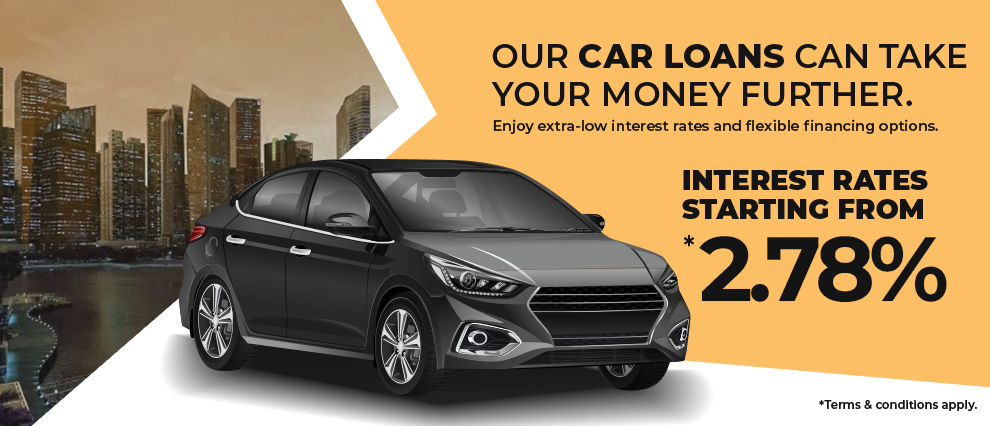 2.78% Cheapest Car Loan Promotion Rate
Minimum loan amount of $100,000 and other terms applies for our 2.78% car loan promo. For the next cheapest interest rate option, kindly contact our Car Finance Specialist, Ming Xi at +65 9851 8281 or fill up our general inquiry form here.
Buying a car in Singapore is expensive which is why car buyers opt to apply for the cheapest car loan rate to keep the costs down. At Speed Credit, we strive hard to get you the best car loan deals through our 14 reputable bank partners in Singapore.
By maintaining a good personal and financial relationship with our bank partners, we are able to make special car loan or car finance arrangements for our customers. This makes us one of the best auto loan provider in Singapore with competitive car loan interest rates including used car loan rates. Our in-house 2.78% car loan promotion has remained strong and is still considered to be the cheapest car loan rate in Singapore.
For over a year now, our cheapest 2.78% car loan interest rate promotion has helped over 680 car buyers in getting huge savings by paying a very low monthly car installment.
To apply for the cheapest car loan promotional rate, kindly fill up our car loan form here. Once submitted, one of our car finance specialists will contact you regarding your application. Thank you.
Contact us today at +65 6444 4400 for more information.
Apply Online
Click here to sign up now.
Apply Now
Apart from car loan submission, we will also assist you on the following:
Verification on the true information and car ownership of the seller.
FREE administrative support for LTA transactions such as transfer of car ownership.
Complete all legal documentations for your car loan.
Full settlement with the seller's existing bank or financial institute.
Act as a neutral party for all your car sale agreements and monetary transaction.
Help you get up to 5 of the cheapest comprehensive car insurance quote for your vehicle.
Our Bank Partners
UOB
DBS
POSB
Citibank
Maybank
Standard Chartered
Hitachi Capital
Century Tokyo Leasing
Singapura Finance
Sing Investments & Finance
HL Bank
Hong Leong Finance
Requirements for Loan Submission
Buyer
Loan Application Form (Preferred 2 Signed , At least 1 is filled & signed)
Clear Copy Of NRIC (Front & Back)
Income Documents (Any of the following)

Latest 6 Months CPF
2 Years Notice Of Assesement
Latest 3 Months Computerized Payslip

Sales & Purchase Agreement (Used Attached or Own Agreement)
Seller
Vehicle Log Card / Acknowledgement
Clear Copy Of NRIC (Front & Back)
Authorization Form To Check Full Settlement (If Vehicle is still under Finance)
Guarantor
Loan Application Form (Preferred 2 Signed , At least 1 is filled & signed)
Clear Copy Of NRIC (Front & Back)
Income Documents (Any of the following )

Latest 6 Months CPF
2 Years Notice Of Assesement
Latest 3 Months Computerized Payslip
Buyer
Loan Application Form (Preferred 2 chop & Signed , At least 1 is filled , chop & signed )
Clear Copy Of NRIC (Front & Back)
Income Documents (Any of the following)

Latest 6 Months CPF
Clear Copy Of Acra (Printed Within 3 Months)
Latest 3 Months Bank Statement
Sales & Purchase Agreement (Used Attached or Own Agreement)

Sales & Purchase Agreement (Used Attached or Own Agreement)
Guarantor (Director of Company)
Loan Application Form (Preferred 2 Signed , At least 1 is filled & signed)
Clear Copy Of NRIC (Front & Back)
Income Documents (Any of the following )

Latest 6 Months CPF
2 Years Notice Of Assesement
Latest 3 Months Computerized Payslip
Seller
Vehicle Log Card / Acknowledgement
Clear Copy Of NRIC (Front & Back)
Authorization Form To Check Full Settlement (If Vehicle is still under Finance)
Buyer
Loan Application Form (Preferred 2 Signed , At least 1 is filled & signed)
Clear Copy Of Passport
Income Documents (Any of the following)

Latest 6 Months CPF
2 Years Notice Of Assesement
Latest 3 Months Computerized Payslip

Clear Copy Of Employment Pass (Front & Back)
Full Set Employment Agreement
Sales & Purchase Agreement (Used Attached or Own Agreement)
Seller
Vehicle Log Card / Acknowledgement
Clear Copy Of NRIC (Front & Back)
Authorization Form To Check Full Settlement (If Vehicle is still under Finance)
Guarantor (Must be a Singaporean)
Loan Application Form (Preferred 2 Signed , At least 1 is filled & signed)
Clear Copy Of NRIC (Front & Back)
Income Documents (Any of the following )

Latest 6 Months CPF
2 Years Notice Of Assesement
Latest 3 Months Computerized Payslip